Bathtub Refinishing
You can add years or even decades to the life of a bathtub, shower or ceramic tile for a fraction of the cost to replace it. We refinish porcelain, fiberglass, acrylic and almost anything else.
Refinishing is an excellent way to bring dated tubs into the present. Get rid of the avacado green, harvest gold of the 1970s and robin's egg blues and pinks of the 1960s. Change them to white or any custom color you can imagine, to make your kitchen or bath truely unique.
Our refinishing process will also include repairing chips, rust and cracks on procelain, tile, fiberglass and acrylic tubs, basins and surrounds to bring them back to a brand new look that we guarantee for five years.
Antique Restoration

Clawfoot bathtubs, farm sinks, or custom jobs can be brought back to life from almost any condition.

We also have refinished antique tubs for sale.
Safety Products
You can choose to add an ANSI certified slip resistant surface to the bottom of your shower, tub or walkway.
We also install grab bars for better stability.
Now offering Safety Step bathtub cutouts. See safewaystep.com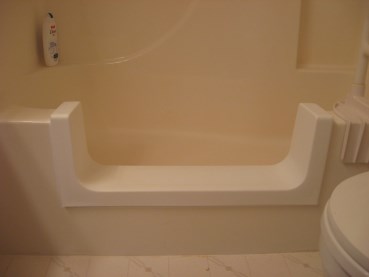 Cabinets
We offer numerous options for refinishing your old cabinets. If your cabinets are sound, functional or even made of solid wood, we can bring them out of the 1950s or '60s and into the present with options that include changing door and cabinet colors. This customer chose to have cabinet doors refinished in Multi-stone and painted the cabinets in an accent color. Your options are endless, and a resurfacing will cost a fraction of a kitchen remodel.
Countertops
Bring your countertop out of the stone age with a multi-stone finish! Several colors from which to choose.
Dan Horsley
Rapid City, SD
(605) 430-7896
dan@horsleyrefinishing.com
© Copyright 2013 Horsley Refinishing. All rights reserved.